Hanwoo cattle: origin, domestication, breeding strategies and genomic selection
Journal of Animal Science and Technology
2014
56:2
Received: 7 April 2014
Accepted: 7 April 2014
Published: 15 May 2014
Abstract
Hanwoo (Korean cattle) is the native, taurine type of cattle breed of Korea and its history as a draft animal dates back to 5000 Years. In earlier times Hanwoo was used extensively for farming, transportation. Over the period of time, Hanwoo has changed to be meat type cattle. Full-scale production of Hanwoo as meat-type cattle has occurred since 1960s with the rapid growth of the Korean economy. Hanwoo is one of the most economically important species in Korea as it is a significant source of nutrition to the Korean people. Hanwoo beef is the most cherished food of Korea. One of the main goals of researchers is to increase the meat quality, quantity and taste of the beef. In this review we describe the origin, domestication of Hanwoo cattle and breeding program initiated from 1980's. Moreover the advent of technological advancement had provided us a platform to perform genome wide selection on economic traits and its implementation into traditional breeding programs.
Keywords
Hanwoo (Korean cattle)OriginDomestication and breeding program
Introduction
Hanwoo (Korean cattle) is the native, taurine type, small sized cattle breed of Korea and its history as a draft animal dates back to 5000 Years. In earlier times Hanwoo was used extensively for farming, transportation and for religious sacrifice. Over the period of time Hanwoo cattle has evolved to be meat type cattle. Full-scale production of Hanwoo as meat-type cattle has occurred since 1960s with the rapid growth of the Korean economy. Despite its high price, beef from Hanwoo cattle is very popular among both Koreans and foreigners. Hanwoo beef is known for its marbled fat, tenderness, juiciness and characteristic flavor. There are four breeds of Hanwoo in Korea viz. brown Hanwoo, brindle Hanwoo, black Hanwoo and jeju black (Figure
1
). Among all these colour variants brown is the most common one (Figure
1
). National Institute of Animal Science along with the small stakeholders has taken an initiative for a better management and improvement of Hanwoo cattle. Hanwoo Experiment Station (A Research Station of National Institute of Animal Science) in Pyeongchang-gun, Gangwon-do, Korea is dedicated exclusively for research on Hanwoo cattle. Along with Hanwoo experiment station there are other institutes and universities as well which are working towards the betterment of this native cattle breed.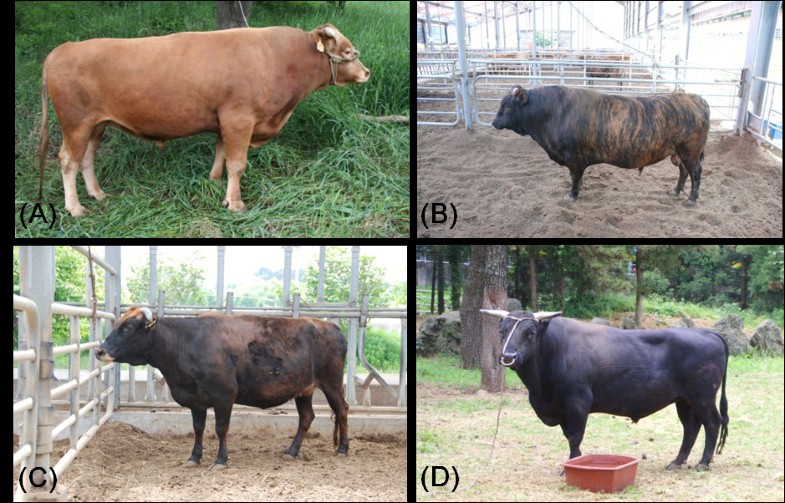 Korea along with Hanwoo has a market for imported beef from Australia, USA, New Zealand, Canada and Mexico as well (KMTA, [1]). When Hanwoo beef was compared with the Australian Angus, it showed characteristic compositional and quality differences that should result from genetic and environmental differences between them [2]. Hanwoo is lower in cholesterol compared to other beef. It also has a higher omega 3 fatty acid count which makes it healthier than beef from other cattle. Taste-wise, it's very soft, juicy, and delicious. The marbling in Hanwoo steak is excellent as well and it has the right balance of meat and fat. Korean consumers decided their overall acceptability of Hanwoo beef are as follows: weights of tenderness 55%, juiciness 18%, and flavor-likeness 27% [3]. No wonder Korean consumers, despite the high price prefer Hanwoo beef to the imported one. In order to produce high quality Hanwoo beef along with specially designed breeding programs special care and feed strategies are deployed.
The major goal of researchers is to increase both the quality (Marbling, tenderness and flavor) and the quantity (Carcass weight) of the meat to benefit the Hanwoo beef industry. Therefore, the current selection index used in Korea Proven Bulls (KPN) program is based on 1) carcass weight on marbling score 2) the comparison on carcass weight. In order to support the beef industry along with the conventional selection program, the genomic selection is also being incorporated in selection and breeding programs. In the present review we discussed the origin, domestication, breeding strategies and genomic selection in Hanwoo cattle.
Conclusion
Recent advances in molecular biotechnology facilitate not only detection of genes that contribute to genetic variation of quantitative traits but also incorporation of genomic information into a conventional animal breeding program. The incorporated molecular information into GEBV may achieve an improvement of EBV and selection accuracy in cattle populations. In conclusion, we suggest incorporating molecular information into the conventional breeding programs to achieve better results in comparatively shorter time. Including molecular information will be a step further to achieve higher standards of Hanwoo beef.
Declarations
Acknowledgements
This study was supported by awards from the AGENDA project (Grant no. PJ907008062013) and Molecular Breeding program (PJ0081882013) of Next Generation BIOGREEN21 project in the National Institute of Animal Science, RDA.
Authors' Affiliations
(1)
RDA, Hanwoo Experiment Station, National Institute of Animal Science, Pyeong-Chang, Korea
(2)
Animal Genetic and Breeding Division, National Institute of Animal Science, Cheon-An, Korea
References
Korea Meat Trade Association (KMTA): Information and Data of Agricultural Statistics Of Korea. 2011, Accessed on January 12, 2011. http://kmta.or.kr/html/sub6-1.html?scode=6, Google Scholar
Jo C, Cho SH, Chang J, Nam KC: Keys to production and processing of Hanwoo beef: a perspective of tradition and science. Anim Front. 2012, 2 (4): 32-38. 10.2527/af.2012-0060.View ArticleGoogle Scholar
Cho SH, Kim J, Park BY, Seong PN, Kang GH, Kim JH, Jung SG, Im SK, Kim DH: Assessment of meat quality properties and development of a palatability prediction model for Korean Hanwoo steer beef. Meat Sci. 2010, 86: 236-242.View ArticlePubMedGoogle Scholar
Han SW: The Breed of Cattles. 1996, 148-160. Sun-Jin publishingGoogle Scholar
Lee C, Pollak EJ: Genetic antagonism between body weight and milk production in beef cattle. J Anim Sci. 2002, 80: 316-321.PubMedGoogle Scholar
Yoon DH, Park EW, Lee SH, Lee HK, Oh SJ, Cheong IC, Hong KC: Assessment of genetic diversity and relationships between Korean cattle and other cattle breeds by microsatellite loci. J Anim Sci Technol (Kor). 2005, 47 (3): 341-354.View ArticleGoogle Scholar
Mannen H, Kohno M, Nagata Y, Tsuji S, Bradley DG, Yeo JS, Nyamsamba D, Zagdsuren Y, Yokohama M, Nomura K, Amano T: Independent mitochondrial origin and historical genetic differentiation in North Eastern Asian cattle. Mol Phylogenet Evol. 2004, 32: 539-544.View ArticlePubMedGoogle Scholar
McTavish EJ, Decker JE, Schnabel RD, Taylor JF, Hillis DM: New World Cattle Show Ancestry From Multiple Independent Domestication Events. 2013, PNAS Early EditionGoogle Scholar
Lee SH, Cho YM, Lim D, Kim HC, Choi BH, Park HS, Kim OH, Kim S, Kim TH, Yoon D, Hong SK: Linkage disequilibrium and effective population size in Hanwoo Korean Cattle. Asian Australas J Anim Sci. 2011, 24 (12): 1660-1665. 10.5713/ajas.2011.11165.View ArticleGoogle Scholar
Lee SH, Julius VW, Lee SH, Lim DJ, Park EW, Gondro C, Yoon D, Oh SJ, Kim OH, Gibson J, Thompson J: Genome wide QTL mapping to identify candidate genes for carcass traits in Hanwoo (Korean Cattle). Genes Genom. 2012, 34 (1): 43-49. 10.1007/s13258-011-0081-6.View ArticleGoogle Scholar
Ministry of Agriculture and Fishery (MAF): Code of Practice For Development Programs In Agriculture And Forestry. 1999, 40Google Scholar
Park B, Choi T, Kim S, Oh S-H: National genetic evaluation (system) of Hanwoo (Korean Native Cattle). Asian-Aust J Anim Sci. 2013, 26 (2): 151-156. 10.5713/ajas.2012.12439.View ArticleGoogle Scholar
Koch RM, Cundiff LV, Gregory EK: Heritabilitied and genetic, environmental and phenotypic correlations of carcass traits in a population of diverse biological types and their implications in selection programs. J Anim Sci. 1982, 55: 1319-1324.Google Scholar
Baik DH, Hoque1 MA, Choe HS: Estimation of genetic and environmental parameters of carcass traits in hanwoo (korean native cattle) populations. Asian-Aust J Anim Sci. 2002, 15 (11): 1523-1526.View ArticleGoogle Scholar
Cundiff LV, Gregory EK, Koch RM, Dickerson GE: Genetic relationships among growth and carcass traits of beef cattle. J Anim Sci. 1971, 33: 550-555.PubMedGoogle Scholar
Yi L: Genome-Wide Association Study to Identify Qtl For Growth And Carcass Quality Traits In Korean Native Cattle, Hanwoo. 2012Google Scholar
Goddard ME, Hayes BJ: Mapping genes for complex traits in domestic animals and their use in breeding programmes. Nat Rev Genet. 2009, 10: 381-391.View ArticlePubMedGoogle Scholar
Meuwissen T, Hayes B, Goddard M: Prediction of total genetic value using genome-wide dense marker maps. Genetics. 2001, 157: 1819-1829.PubMedPubMed CentralGoogle Scholar
Lee SH, van der Werf JHJ, Hayes BJ, Goddard ME, Visscher PM: Predicting unobserved phenotypes for complex traits from whole-genome SNP data. PLoS Genet. 2008, 4: e1000231-View ArticlePubMedPubMed CentralGoogle Scholar
Copyright
© Lee et al.; licensee BioMed Central Ltd. 2014
This article is published under license to BioMed Central Ltd. This is an Open Access article distributed under the terms of the Creative Commons Attribution License (http://creativecommons.org/licenses/by/4.0), which permits unrestricted use, distribution, and reproduction in any medium, provided the original work is properly credited. The Creative Commons Public Domain Dedication waiver (http://creativecommons.org/publicdomain/zero/1.0/) applies to the data made available in this article, unless otherwise stated.