Dietary manipulation: a sustainable way to mitigate methane emissions from ruminants
Journal of Animal Science and Technology
2018
60:15
Received: 28 November 2017
Accepted: 4 June 2018
Published: 18 June 2018
Abstract
Methane emission from the enteric fermentation of ruminant livestock is a main source of greenhouse gas (GHG) emission and a major concern for global warming. Methane emission is also associated with dietary energy lose; hence, reduce feed efficiency. Due to the negative environmental impacts, methane mitigation has come forward in last few decades. To date numerous efforts were made in order to reduce methane emission from ruminants. No table mitigation approaches are rumen manipulation, alteration of rumen fermentation, modification of rumen microbial biodiversity by different means and rarely by animal manipulations. However, a comprehensive exploration for a sustainable methane mitigation approach is still lacking. Dietary modification is directly linked to changes in the rumen fermentation pattern and types of end products. Studies showed that changing fermentation pattern is one of the most effective ways of methane abatement. Desirable dietary changes provide two fold benefits i.e. improve production and reduce GHG emissions. Therefore, the aim of this review is to discuss biology of methane emission from ruminants and its mitigation through dietary manipulation.
Keywords
Diet
Starch
Sugar
Fibres
Greenhouse gas
Background
Livestock contribute to global climate change by emitting GHG either directly (from enteric fermentation and manure management) or indirectly (from feed production and the processing and converting of forest into pasture). The major GHGs from the livestock sector are carbon dioxide (CO
2
), methane (CH
4
) and nitrous oxide (N
2
O) throughout the production process (Fig.
1
.1). The CO
2
that is emitted from livestock is not considered a net contributor to climate change because the animals consume plants that use CO
2
during photosynthesis (Steinfeld et al., 2006). Consequently, CH
4
and N
2
O are the most important GHGs from the animal production system and have very high global warming potentials (GWP) of 25 and 298 CO
2
equivalent (eq), respectively [
1
]. The first comprehensive analysis of the environmental impact of livestock production [
2
] reported that approximately 18% of the global anthropogenic GHG is contributed by livestock production. The global anthropogenic GHG emissions from agriculture were 5.1 to 6.1 Gigatonnes CO
2
-eq in 2005, of which livestock shared approximately 9% [
3
]. Within livestock, ruminant supply chains are the main contributors to the GHG, estimating approximately 80% of the total sector's emissions [
4
], while non-ruminants, e.g., pigs and poultry, contribute only approximately 9 and 8%, respectively, to the sector's emissions [
5
]. The emissions from beef and milk production represent 35 and 30% of the livestock sector emissions, globally. Buffalos and small ruminant supply chains have a much lower contribution, representing 8.7 and 6.7% of sector emissions, respectively [
4
]. Another report [
5
] that stated GHG emissions along livestock supply chains estimated approximately 14.5% of all human-induced emissions. Enteric fermentation and feed production related activities in ruminant production are the primary sources of GHG emissions, representing approximately 39 and 45% of the GHG of the total sector's emissions. The largest source of GHG emissions from ruminant production, i.e., CH
4
derive from enteric fermentation, which accounts for approximately 47%, greater than 90% of the total CH
4
emissions [
4
]. According to the US Environmental Protection Agency in 2009, CH
4
emissions from enteric fermentation represented approximately 20% of total CH
4
emissions from anthropogenic sources [
6
]. The rate of emission in terms of carbon footprint at the product levels is 2.8, 3.4 and 6.5 kg CO
2
-eq/kg FPCM for milk production from dairy cattle, buffalo and small ruminants, respectively. However, with regard to meat from ruminants, the carbon footprint for beef, buffalo meat and small ruminant meat is 46.2, 53.4 and 23.8 kg CO
2
-eq/kg meat, respectively [
4
]. According to the values that were projected by EPA [
7
], the direct non-CO
2
emissions from livestock would be approximately 7.3 to 7.5% of the global GHG emissions between 2010 and 2020, respectively. Ruminant production faces difficult challenges and must reduce GHG emission while responding to the significant demand of livestock products (projected + 70% by 2050 for a world-projected population of 9.6 billion) [
5
]. The global food demand will also increase with the rapidly increasing global population. Consequently, the demand for animal products will also increase. Therefore, the environmental impact per unit of animal products will obviously be increased. Thus, the sector will be vulnerable in terms of environmental sustainability. Therefore, sustainable and immediate mitigation strategies are in high demand. This review will focus on CH
4
mitigation from ruminants through dietary manipulation.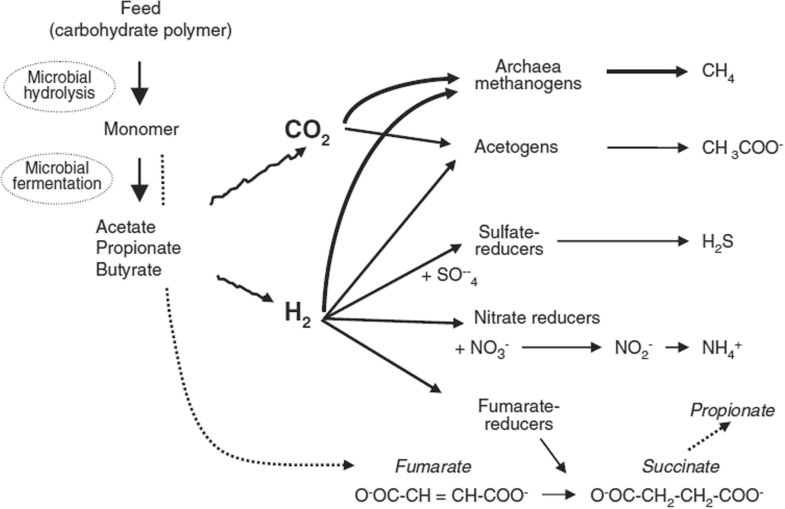 Conclusions
A Number of methane mitigation options are available and currently in practice. No single option appears to provide a simple and enduring solution. Selection and breeding of low methane emitter animals is one of the solutions which requires longer time frame. Use of chemicals, ionophors, plant secondary metabolites or such application attributes transitory effects on methane reduction. However, overall dietary manipulation by selecting and utilizing high quality forages, strategic supplementation of forages, changing concentrate proportion with special emphasis on changing carbohydrate composition should be considered as an immediate and sustainable methane mitigation approach of enteric CH4 emitted from ruminant livestock. Feeding a diet with more starch and less fibres not only produce less methane per kg feed DM but also form a basis for higher feed intake and higher production per animal and hence will be the most efficient way to reduce the methane production per kg of meat or milk produced.
Abbreviations
GHG:

Greenhouse gas
CO2 :

Carbon dioxide
CH4 :

Methane
N2O:

Nitrous oxide
GWP:

Global warming potential
FPCM:

Fat and protein corrected milk
DMI:

Dry matter Intake
H2 :

Hydrogen
VFA:

Volatile fatty acid
Declarations
Acknowledgements
The authors would like to acknowledge Jorgen Madsen, Professor (retired) for his kind instruction to prepare this review.
Availability of data and materials
Data sharing not applicable to this article as no datasets were generated or analysed during the current study.
Authors' contributions
The article is prepared by a single author. The Author read and approved the final manuscript.
Ethics approval and consent to participate
Not applicable.
Competing interests
The author declares that he/she has no competing interests.
Publisher's Note
Springer Nature remains neutral with regard to jurisdictional claims in published maps and institutional affiliations.
Open AccessThis article is distributed under the terms of the Creative Commons Attribution 4.0 International License (http://creativecommons.org/licenses/by/4.0/), which permits unrestricted use, distribution, and reproduction in any medium, provided you give appropriate credit to the original author(s) and the source, provide a link to the Creative Commons license, and indicate if changes were made. The Creative Commons Public Domain Dedication waiver (http://creativecommons.org/publicdomain/zero/1.0/) applies to the data made available in this article, unless otherwise stated.
Authors' Affiliations
(1)
Bangabandhu Sheikh Mujibur Rahman Science and Technology University, Gopalganj, Bangladesh