Characteristics of pork belly consumption in South Korea and their health implication
Journal of Animal Science and Technology
2015
57:22
Received: 8 April 2015
Accepted: 28 May 2015
Published: 9 June 2015
Abstract
Fresh pork belly is a highly popular meat in South Korea, accounting for 59 % of the approximately 100 g of meat per capita that is consumed daily. Fresh pork belly offers not only high-quality protein from the lean cuts but also substantial micronutrients including fat-soluble vitamins and minerals. However, fresh pork belly generally consists of about 30 % fat, with saturated fatty acids representing half of this value. Excessive consumption of saturated fatty acids increases total cholesterol, low-density lipoprotein-cholesterol, and triglycerides while decreasing high-density lipoprotein-cholesterol, raising concerns about an increased risk of hyperlipidemia, followed by cardiovascular diseases. In this review, we discuss the consumption and production trends in South Korea, the general characteristics, and health issues related to fresh pork belly to delineate the features of pork production and consumer welfare.
Keywords
Pork belly
Pork preference
Pork belly production
Saturated fatty acids
Dyslipidemia
Cardiovascular disease
Introduction
Pork is the most highly consumed meat in the world (Fig.
1
) [
1
,
2
], and global pork markets are expanding and becoming more competitive following recent bilateral free trade agreements [
3
]. South Korea is one of the highest pork-consuming countries in the world [
2
], and pork consumption in South Korea has steadily increased in recent years [
4
]. However, pork production in South Korea does not satisfy consumer demand [
4
,
5
]. In addition, consumers in South Korea have a unique consumption pattern and a strong preference for high-fat cuts such as belly and Boston butt [
5
–
7
]. Pork belly (called Sam-gyeop-sal in South Korea) is the most favored primal cut among the various pork cuts. Therefore, the supply of pork belly depends on importation. In contrast, primal low-fat cuts such as loin, tenderloin, picnic shoulder, and ham (pork leg) face surplus inventory problems due to low consumer preference and exporting difficulties [
5
,
8
].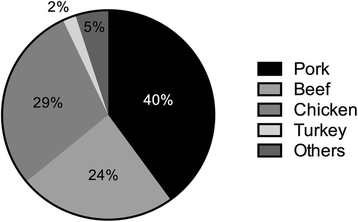 Pork belly not only provides rich flavor and taste but is also a source of high-quality protein, vitamins, and minerals. However, it is also recognized that pork belly is the highest-fat cut among the various primal pork cuts, and therefore excessive consumption has potential adverse effects on humans, including increasing risk of cardiovascular disease and the metabolic syndrome [9–14]. Therefore, the goal of this article is to review the consumption and production of pork belly in South Korea and the general characteristics of pork belly and to discuss the potential harm to health of excessive consumption of the high fat in pork belly.
Conclusions
Pork is the source of high-quality protein, vitamins, and minerals. Consumers in South Korea also favor pork rather than chicken and beef. Especially, they strongly prefer pork belly, the highest fat and the lower yield cut. The unique and strong consumption pattern in South Korea caused severe imbalance between demand and supply of pork belly, resulting in heavily depend on import from foreign countries. In addition, excessive consumption of pork bellies as part of an unbalanced diet is highly likely to lead to impaired nutrient intake and abnormal fatty acid profiles, thereby negatively affecting long-term health. These implies that preference for pork belly in South Korea have potential risk to domestic pork industry development and consumers health. However, the meaningful change is recently observed that purchase of belly decreased and consuming low-fat primal cuts increased. These shifts in pork consumption can help not only stabilization of the pork industry but also consumer welfare in South Korea.
Authors' Affiliations
(1)
Department of Food Bioscience and Technology, Korea University, Seoul, South Korea
(2)
Division of Applied Life Science Graduate School (BK21 plus), Gyoungsang National University, Jinju, South Korea
(3)
Department of Nutritional Science and Food Management, Ewha Womans University, Seoul, South Korea
(4)
Department of Food and Nutrition, Kookmin University, Seoul, South Korea
Copyright
© Choe et al. 2015
This is an Open Access article distributed under the terms of the Creative Commons Attribution License (http://creativecommons.org/licenses/by/4.0), which permits unrestricted use, distribution, and reproduction in any medium, provided the original work is properly credited. The Creative Commons Public Domain Dedication waiver (http://creativecommons.org/publicdomain/zero/1.0/) applies to the data made available in this article, unless otherwise stated.