Recent advances in canola meal utilization in swine nutrition
Journal of Animal Science and Technology
2016
58:7
Received: 8 December 2015
Accepted: 27 December 2015
Published: 16 February 2016
Abstract
Canola meal is derived from the crushing of canola seed for oil extraction. Although it has been used in swine diets for a long time, its inclusion levels have been limited due to concerns regarding its nutritive value primarily arising from results of early studies showing negative effects of dietary canola meal inclusion in swine diets. Such effects were attributable to the presence of anti-nutritional factors (ANF; notably glucosinolates) in canola meal. However, due to advances in genetic improvements of canola that have led to production of cultivars with significantly lower ANF content and improved processing procedures, canola meal with a superior nutritive value for non-ruminant animals is now available. Therefore, the aim of this paper is to review the recent studies in the use of canola meal as feedstuff for swine, the factors influencing its use and the strategies to overcome them. First a historical overview of the development of canola is provided.
Keywords
Canola meal
Nutritive value
Pigs
Background
Canola is an offspring of rapeseed which belongs to the cabbage family or Brassicas. The genus
Brassica
also contains plants such as cabbage, radish, kale, mustard and cauliflower [
10
]. Rapeseed oil contains around 25-45 % erucic acid whereas the meal contains about 110-150 μmoles/g of aliphatic glucosinolates [
12
]. Rapeseed was cultivated more than 3000 years ago in India and 2000 years ago in China and Japan. The development of steam power resulted in better industrial acceptance of rapeseed. It was introduced to Canada between 1936 and early 1940s as a method of diversifying crop production, especially for the Prairie Provinces [
10
,
30
,
69
]. The fuel shortage caused by World War II led to the increased production of rapeseed. However, with the switch to diesel engines, and also the ban of the use of rapeseed for human consumption by the USA in 1956, the demand for rapeseed declined [
95
].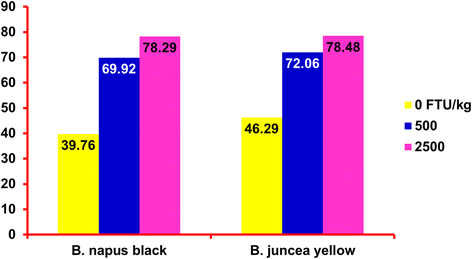 Rapeseed contains high levels of glucosinolates, which can be hydrolyzed by the enzyme myrosinase to release products with goitrogenic effects that interfere with iodine metabolism and therefore affect the functioning of the thyroid gland and consequently animal performance [53]. To address these effects, plant breeders worked to develop rapeseed cultivars with low glucosinolate content in the meal and low erucic acid content in rapeseed oil. The first low-erucic acid rapeseed was developed in Canada by Dr. Baldour R. Stefansson of the University of Manitoba, who has been referred to as "The father of canola" because of his contribution to the development of low-erucic acid type rapeseed. In early 1960s, he surveyed over 4000 lines of rapeseed from all over the world and identified low-erucic acid lines which were then used in the breeding programs at the University of Manitoba and also by Dr. Keith Downey at the Agriculture Canada Research Station in Saskatoon. In 1968, the first low-erucic acid cultivars Tanka, Target and Turret were released and produced in Canada [10, 85]. By 1974, Dr. Stefansson released the first double zero rapeseed cv. Tower [10].
In 1979, all double low cultivars produced in Canada were named as Canola [10]; the name of canola is a contraction of Canada and "ola" that refers to "oil low acid" [22]. The name was used to differentiate canola from the high-glucosinolate, high-erucic acid rapeseed. The name canola refers to "Seeds of the genus Brassica (Brassica napus, Brassica rapa or Brassica juncea) from which the oil shall contain less than 2 % erucic acid in its fatty acid profile and the solid component shall contain less than 30 micromoles of any one or any mixture of 3-butenyl glucosinolate, 4-pentenyl glucosinolate, 2-hydroxy-3 butenyl glucosinolate, and 2-hydroxy-4-pentenyl glucosinolate per gram of air-dry, oil-free solid" [22]. In the international community canola is also known as "double zero", "Zero-zero" or "double low" rapeseed. Canola is currently the leading oil seed crop in Canada with an annual production of over 15 million tonnes [23] and the importance of its meal as a protein supplement is second only to soybean meal. During crushing, canola seed yield 42 % of oil, which is used as vegetable oil for human consumption and 58 % meal, which is used as a protein source in animal feed [94]. The aim of this article is to review the recent studies in the use of canola meal as feedstuff for swine, the factors influencing its use and the strategies to overcome them.
Conclusion
The current review offers a description of how canola meal has evolved in recent years, the differences between current canola seeds especially with regards to its nutritive value, particularly protein and fiber content which offers improved profiles for animal nutrition in the case of yellow seeded cultivars (i.e. yellow seeded B. napus and yellow B. juncea).
CM offers an alternative in swine diet as it is a cost effective protein source. This literature review provides information about the nutritive value of CM and recent techniques (i.e., development of new canola cultivars, dehulling of CM and supplementation of feed enzymes and fermentation) which have been used to improve the nutritive value of CM and overcome the limitations encountered by the swine industry and its use as feedstuff. Determination of SID of AA of new cultivars of canola is very important in order to formulate the diet efficiently thereby helping to achieve predictable growth performance in pigs. Furthermore, enzyme supplementation to cereal based diets has yielded inconsistent results.
Declarations
Authors' contributions
GM participated in its design and coordination and write the manuscript, NS, contridute to conception, design of data and write the manuscript, IHK, participated in its design and coordination, and CMN, conceived of the study, and participated in its design and coordination and helped to draft the manuscript. All authors read and approved the final manuscript.
Open AccessThis article is distributed under the terms of the Creative Commons Attribution 4.0 International License (http://creativecommons.org/licenses/by/4.0/), which permits unrestricted use, distribution, and reproduction in any medium, provided you give appropriate credit to the original author(s) and the source, provide a link to the Creative Commons license, and indicate if changes were made. The Creative Commons Public Domain Dedication waiver (http://creativecommons.org/publicdomain/zero/1.0/) applies to the data made available in this article, unless otherwise stated.
Authors' Affiliations
(1)
Department of Animal Science, University of Manitoba, Winnipeg, Canada
(2)
Department of Animal Resource & Science, Dankook University, Cheonan, South Korea